Join The Three Little Stooges email list!
---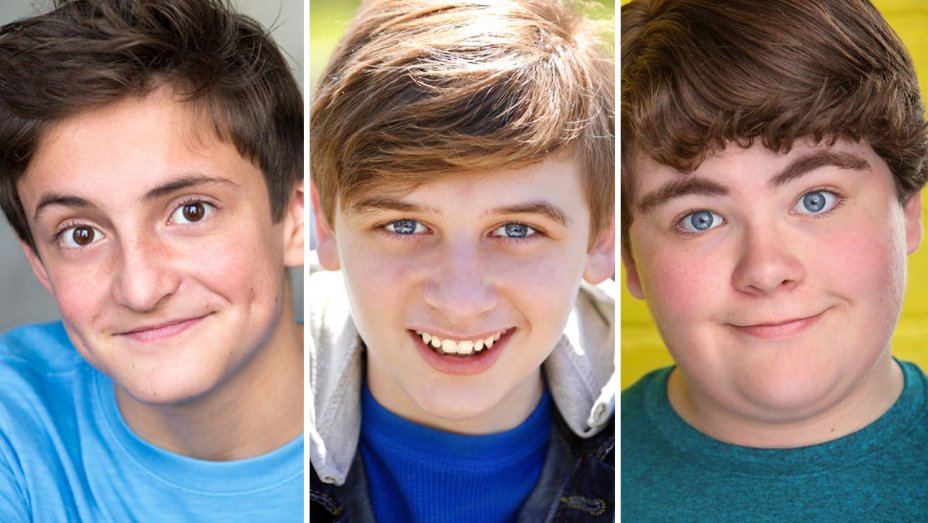 8:00 AM PDT 7/20/2017 The Hollywood Reporter by Kimberly Nordyke
The movie from C3 Entertainment, which owns the Three Stooges brand, centers on the trio of beloved characters as 12- and 13-year-olds.
The Three Little Stooges Movie has found its Larry, Moe and Curly.
The comedic family film, from Three Little Stooges Productions in conjunction with C3 Entertainment, which owns the Three Stooges brand, centers on the trio of beloved characters as 12- and 13-year-olds.
Liam Dow has been cast as Little Larry, Gordy De StJeor as Little Moe, and Luke Clark as Little Curly. This is the first leading role in a feature film for all three. Casting Directors Joey Paul Jensen CSA and Niner Parikh (Camp Cook Kids, Soul Surfer, That's So Raven) conducted a nationwide search to find the trio.
The screenplay for the live-action film was written by Harris Goldberg (Deuce Bigalow: Male Gigolo, The Master of Disguise), with Sean McNamara (Even Stevens, Spare Parts, Soul Surfer) eyed to direct. International sales agent The Exchange has signed on for foreign sales of the film, which is set to go into production in the fall.
In addition, the production team has launched a Reg CF campaign through First Democracy VC's equity crowdfunding portal, which was formed through a partnership between MicroVentures and Indiegogo. Funds from the campaign, which is set to close later this summer, will be used to fund part of the production.
The Three Stooges have starred in more than 200 film shorts, feature films, TV and stage shows. The new movie follows C3 Entertainment's 2012 film The Three Stooges Movie, from the Farrelly brothers and starring Sean Hayes, Will Sasso and Chris Diamantopoulos as the Stooges.
Dow, managed by Mark Robert, played Steve in the DreamWorks' web series OMG! Just Jacque and will appear in the upcoming teen comedy The Perfect Night.
De StJeor has appeared in numerous commercials, music videos, TV and films as a break-dancer, actor and musician. He is repped by The Savage Agency.
Clark plays Kyle in the Jennifer Arnold (Dear White People) comedy movie Fat Camp and is repped by Clear Talent Group.
C3's Earl Benjamin and Robert Benjamin will executive produce with The Exchange CEO Brian O'Shea.
"Keeping Three Stooges legacy alive for new generations is vital for the franchise," said Benjamin, CEO of C3. "We are excited to bring The Three Little Stooges to life to entertain kids, families and our global fan base."
This makes even larger orders with many alternative shirts, sweatshirts, hats, and polos a https://www.football-shirtssale.com/ straightforward process for coaches as it offers every team member the opportunity to place of their two kids replica football kits uk cents and have their shirt customized printed their approach (e. g. with their monogram, mascot or picture). So, if you want to get this wonderful picture about Lamp Thought Icon Png Luxury 13 Sporty football football Icons Liverpool White Away Football Shirt 2019/2020 Freebie Pinterest, simply click save button to save lots of this photographs to your laptop.
So go forward and order your custom soccer hoodies , girls Liverpool Black Goalkeeper Shirt 2019/2020 Kid kits(top+shorts) football T-shirts, Referee Tee and customized womens shirts and rock on your match. We will work with you carefully to give you the right set of football designs for your Liverpool Black Goalkeeper Football Shorts 2019/2020 group and then ship the order to our manufacturer. This glorious image collections United Kingdom Cheap Football Shirts shop:https://www.football-shirtssale.com/ about Lamp Thought Icon Png Luxurious 13 Sporty football Football Icons Freebie Pinterest is on the market to download.
For many who want fully bespoke customized football shirts, we also present a 'design your Liverpool Black Goalkeeper Football Shirt 2019/2020 individual' tool that will help you personalise your shirts and make them utterly distinctive. Designing customized fan shirts Juventus Home Football Shirt 2018/2019 aren't only for youth or high school groups, many fantasy soccer enthusiasts are searching for methods to show off their digital staff spirit.
One of the best and widest number of Navy t-shirts is the Liverpool White Football shirt 2019/2020 Kid kits(top+shorts) official Navy Store. You'll find that our touch soccer shirts, contact football shirts , touch football shorts , contact football singlets and touch soccer uniforms work great for winter leagues, corporate groups, school teams, and in addition on a regular Liverpool home 2019/2020 Kid kits(top+shorts) basis wear for the individual. Allow us to worry about your soccer shirts solution so that you simply and cheap premier league football kits your workforce can consider the challenges ahead.
There are 74,044 customized football shirts suppliers, primarily Leaked Photo Tottenham Hotspur Away Football Shirt 2019/2020 located in Asia. Whether or not you desire a printed emblem or an embroidered badge, design yourself a custom soccer kit and those soccer tournaments will fly by that cheap Paris Saint Germain football shirts little bit easier. I managed to supply some glorious fabric from Sugini manufacturing unit in Thailand, who now manufacture all my custom football shirts and sportswear.
Our custom soccer uniforms are made with Leaked Photo Tottenham Hotspur Home Football Shirt 2019/2020 premium fabrics and can feature any design you want. Save your designs and shirt or shirt templates, share Paris Saint Germain Home Football Shirt 2019/2020 them along with your crew mates and let them vote on their favourite uniforms (or sweatshirts, or polos, or jackets or…), colours and designs. Remind your league that humility just isn't an possibility and cheap arsenal shirt signify your fantasy soccer team the proper method with a personalized shirt from Fantasy Champs.